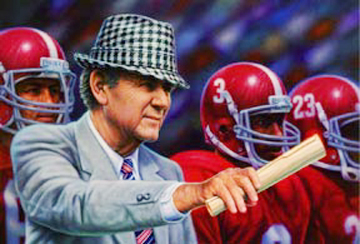 Stamp Design (c) 1996 U.S. Postal Service
The U.S. Postal Service commissioned Daniel A. Moore to create artwork for its Legendary Football Coaches Commemorative postage stamp series released in 1997. For the Bear Bryant stamp, the artist turned to his painting of The Coach and 315 for inspiration. He says, "I wanted to portray Coach Bryant as the 'field commander' who led his troops to victory 323 times in his career. I used the numbers on the players helmets to symbolically convey this record. Bryant's penetrating eyes, his set jaw, old houndstooth hat, and familiar rolled-up depth chart were elements I thought were important to include."
Bear Bryant was published as a Limited Edition Fine Art Print and is no longer available.